Players can mouse-slip, but so can Arbiters! Wouldn't we all like to Undo our last move sometimes?
New features are being released thick and fast at the moment! Features that will help you run your OTB chess tournaments as well as those for Hybrid or Online events.
UNDO functionality
We have released the first version of our Undo stack. This will be extended over time and many actions you take in the lobby will have a shortcut Undo to save you time and heartbreak when you make a mistake. 🙂
Keep an eye on the bottom right corner of the screen: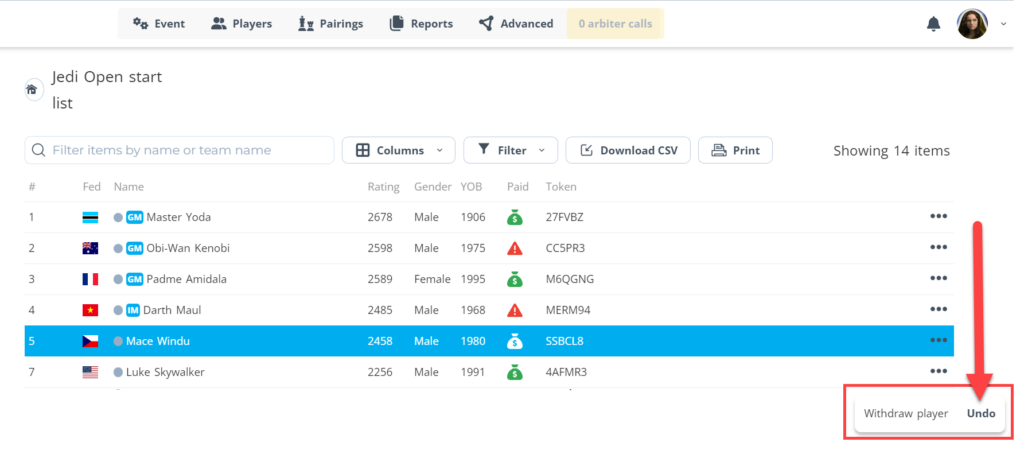 Manual start number for team players
The default sorting for players' board order in a team is by rating. But you don't always want your board order the same as rating order. This feature allows you to change the board order for players and is part of our larger plans for supporting all types of team composition requirements.
modals updated
All our modals have a new design, plus keyboard support. Pressing the Esc key will now close any open modal.
Flags added
All players can now add their country and its flag on their player profile.
We now support historical federations and display flags for players from GDR, SAA, URS, YUG and ZAI.
Upload all your old events from PGN or TRF format and watch them come to life with flags and results on Tornelo. Using Tornelo as a repository for your old events has so many advantages – search for and within events, automatically linked to player profiles via ID numbers, add PGN and view games right from the pairings.
Homepage
You may have noticed that Tornelo.com is now our static brochure page, previously it was on a subdomain. This change consolidates to make it easier for users.
Working on
Support for Clubs and Club memberships

Passing transaction fees to players

One click uploading of results to chess-results website
As always, we're keen to hear your feedback. How can we make your life as a chess tournament organiser, arbiter or TD, easier!
Kind regards,
DAVID CORDOVER
Founder