Mobile friendly design, responsive across all devices, has been one of our highest priorities while rebuilding the tournament lobby. Players can easily play from their phones, parents can check results on the go, and arbiters have the flexibility to make updates anytime, anywhere.
Check it out!
Mobile-friendly Navigation
Signing in to any platform should be a breeze! We've worked hard to make this process as simple as possible (read more here). Don't forget, Players can also use their PlayerID (arbiter token) to connect their profile or play without an account (read more here).
Both actions are optimised for mobile view!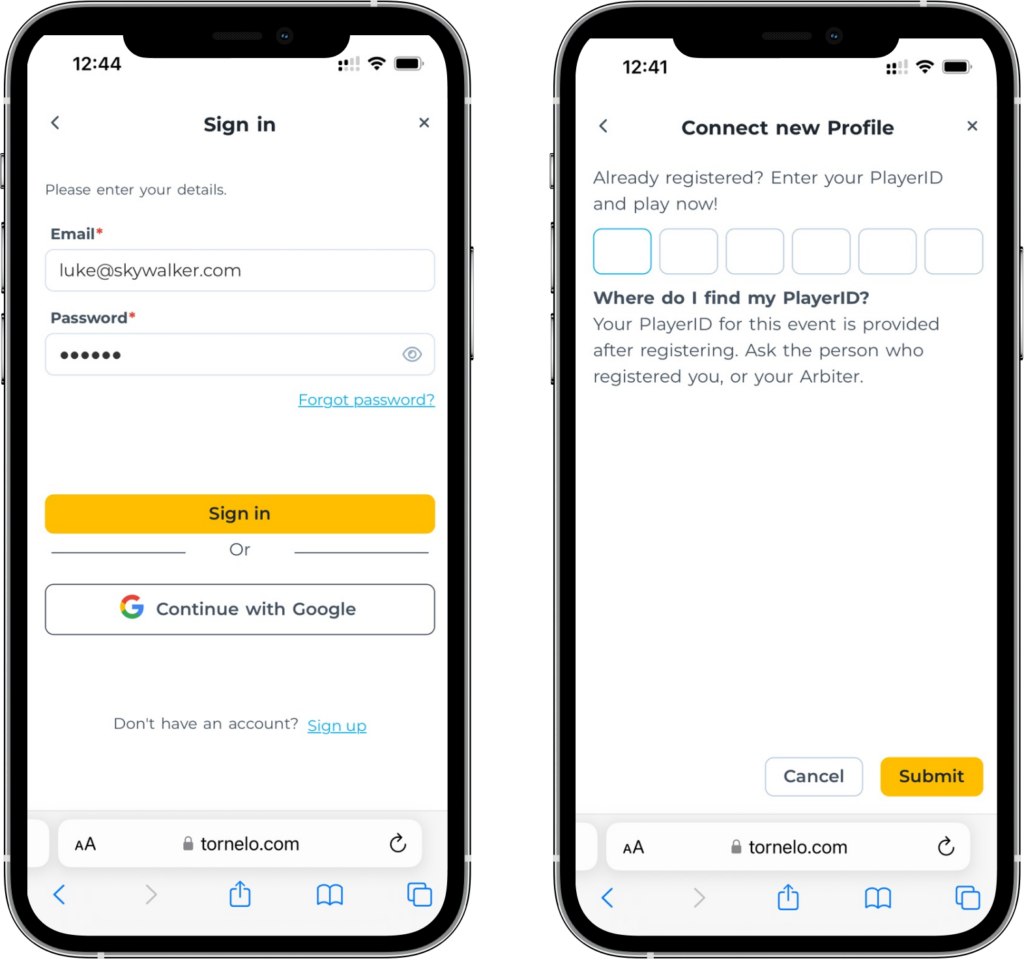 The Global menu offers seamless navigation throughout the platform, allowing you to access Community pages, Organizations, and Event lobbies effortlessly. In the mobile version, it's conveniently hidden under the hamburger menu in the top right corner. For easy Page navigation between Player lists, Pairings, and Standings, you'll find a dropdown menu at the top of each page.
One lobby can be viewed by Players, Spectators, or Arbiters, each seeking a different experience. These views are notably distinguished by our trusted Tornelo bar, which contains important messages for Players and Spectators, and menu options for Arbiters.
Catering precisely to usability requirements on any device, every element of the layout was meticulously crafted to ensure a seamless fit for running chess tournaments: online, hybrid or over the board.
Mobile-friendly Lists
Our interactive tables work just as well on phone as they do on desktop.
One of our main goals was clear visibility of a pairing table in a portrait mode (see below), as there is no other platform that offers such comfort when browsing latest results.
All table interactions, such as filtering, sorting, and customizing columns remain accessible under the "3 dots" button. This button opens a separate mobile friendly menu, where you may easily choose any settings that fit your needs.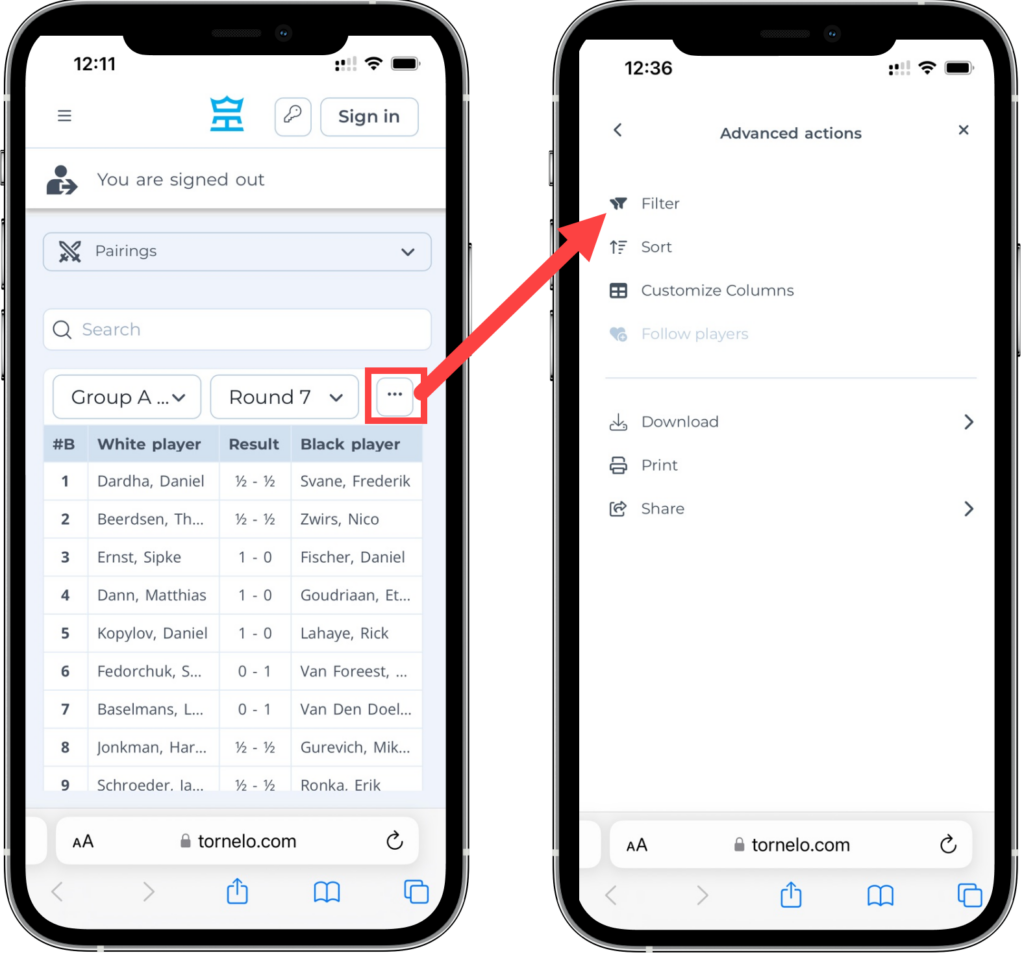 All Tornelo users can experience the actions mentioned above. But for Arbiters and Organizers, there's even more in store! What additional features does Tornelo have to offer for them? Arbiter management is primarily handled through the Arbiter menu bar and Arbiter panels.
The scrollable Arbiter bar allows for left-to-right navigation, and each menu item opens in a full screen menu for easy selection.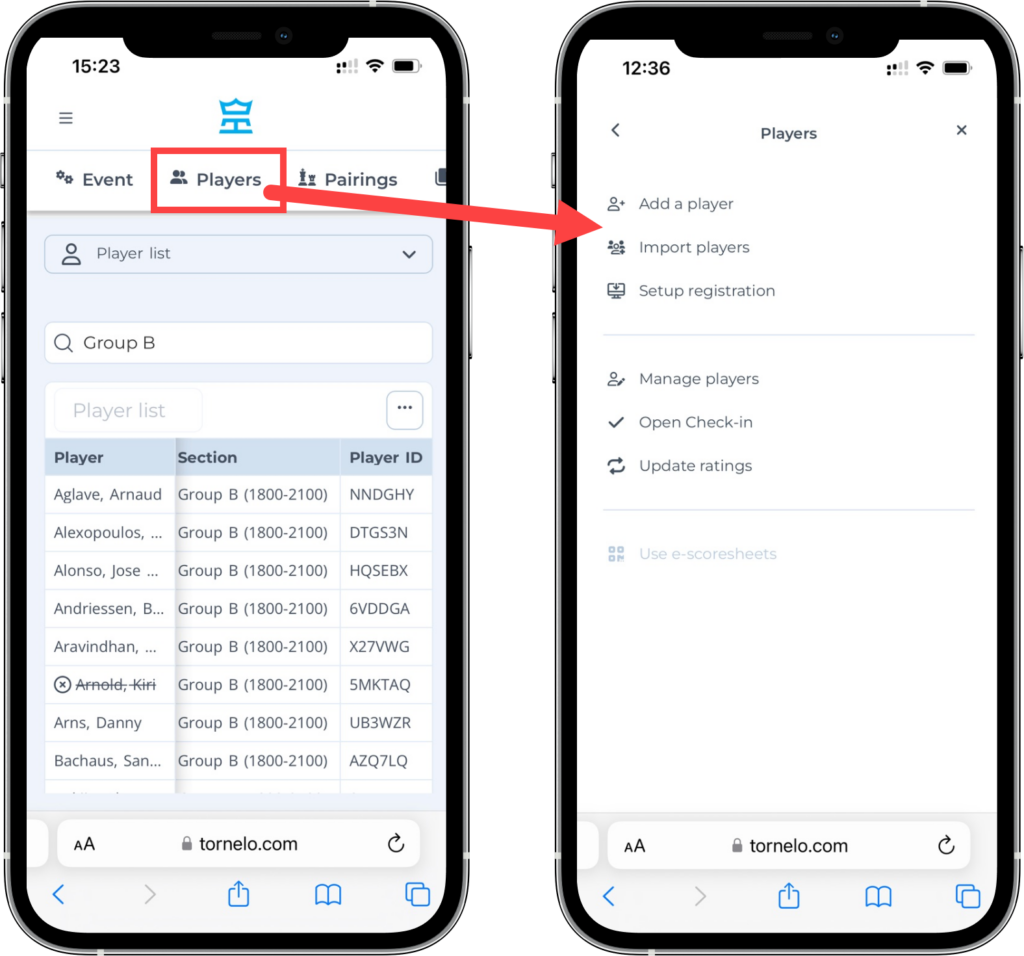 Arbiter panels smoothly pop up over the content, staying in contact with the content below as you drag them up or down. Accessible by clicking the familiar yellow button or selecting a row in a table, these mobile-friendly panels provide the same options as the desktop version.
Final advice for our power users: Make the most of the shortcut buttons at the bottom of the panels for effortless navigation between pages. On any device!
Working on
Edit mode for tables
New Game page
New Event settings
Are you happy with our Lobby redesign? Comment below and let us know! Book a free Tornelo Demo if you want to find out more.
Kind regards,
JOANNA PROKOPOVA