Tornelo is a free, fully integrated tournament management system for running over-the-board chess tournaments, online chess events and even hybrid competitions. Any of these events could be FIDE Rated, Nationally rated, rated by Tornelo or unrated. Our goal is simply to help organisers and arbiters run better events so they can attract more players to play more chess, more often!
If your event is free, then Tornelo is free for you to use.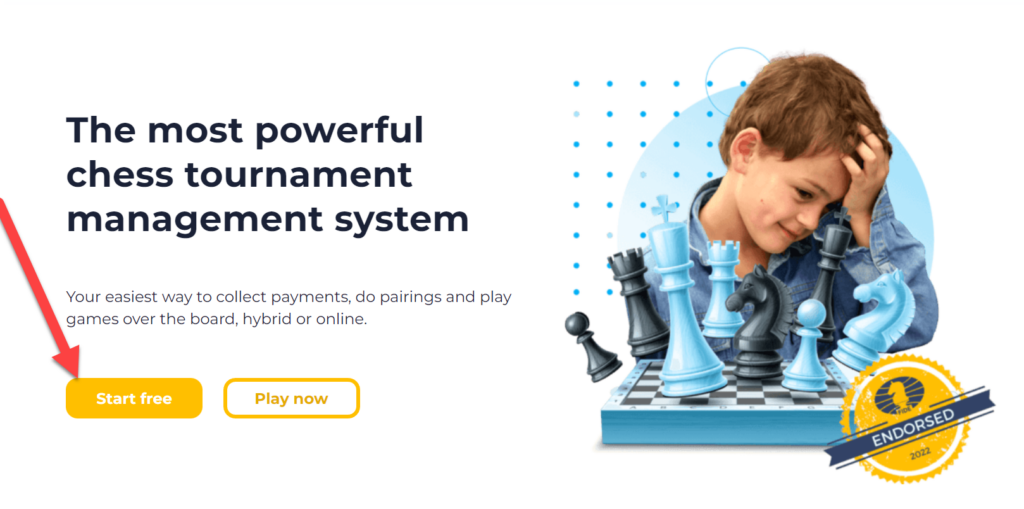 Payment processing fee
We support arbiters who are trying to give players an excellent experience and provide outstanding value in every tournament. For the vast majority of these events there is an Entry fee.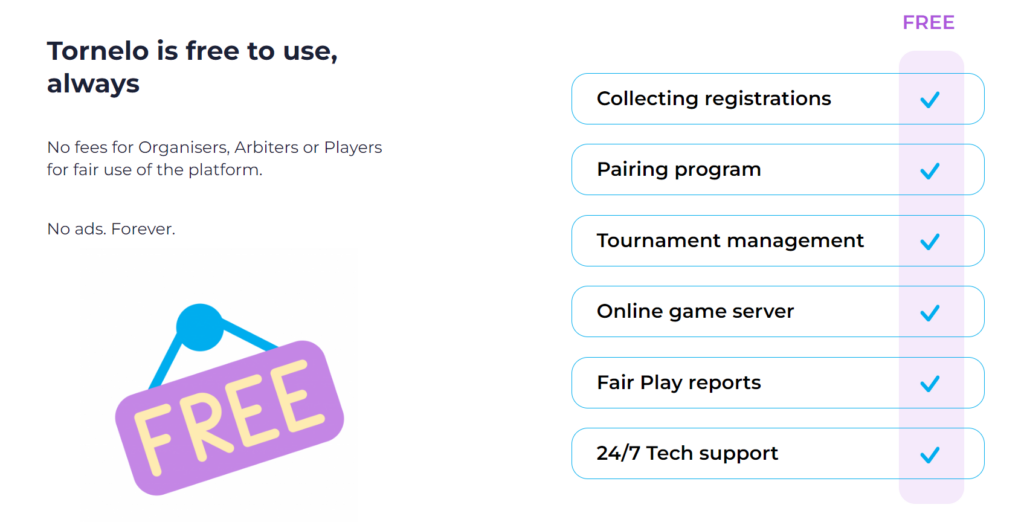 All features on Tornelo are free. There are no Sign up or maintenance fees, nor any contracts. We only charge a fee when you process a paid transaction. This fee is known as a Processing fee.
Our Processing fee is structured in two parts:
Fixed fee of AUD $0.25 (or similar in your currency) per transaction
Variable fee of 2.75% of transaction value*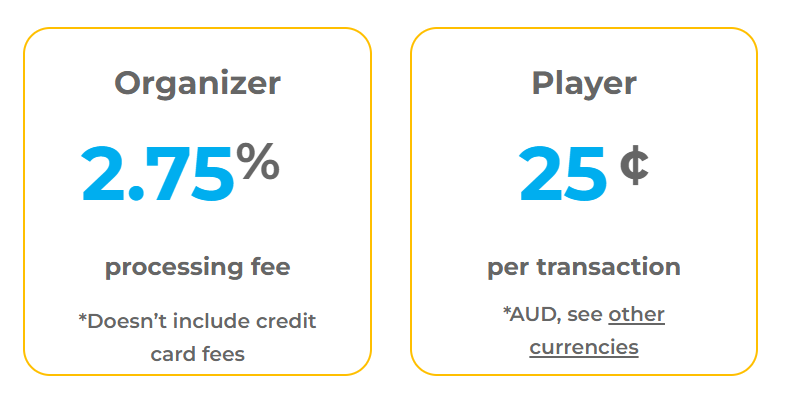 *We support transactions using both PayPal and Stripe as payment gateways; both of these platforms charge a transaction fee in addition to Tornelo's processing fees. We are negotiating with payment gateways to reduce the transaction fees you need to pay. We are working towards providing functionality to collect Entry Fees without paying any transaction fees to Stripe or PayPal.
You choose who pays the processing fee!
Tornelo is free tournament management system. Even when you are collecting registraiton fees and the processing fees are involved, there is an effort to help you manage costs. Arbiters can pass the processing fees to players. Or, tournament organisers can choose to absorbe the Processing fee as part of their entry fees.
In the Edit Tournament Settings -> Online Entries section, you can select the option for players to pay the fees:
Capped fees for players
By selecting "Player pays the fee", a processing fee is added to the total invoice and charged to the Player (or Team Manager) at checkout.
This fee is capped at $15 (or similar in your currency). If the processing fee for the transaction is greater than $15, then $15 is charged to the player and the balance is deducted from the balance before forwarding to the Organization account.
A real life example
The entry fee for online tournament, RJ Shield is $30.
1) Tournament organisers chose to absorb all fees as part of the Entry fee. Tornelo's Processing fee is calculated as $0.25 plus $0.825 (2.75% of $30) = $1.075
The organisers are using Stripe who charges a transaction fee of $0.825. After all fees are deducted the organisers receive $28.10 into their bank account – usually within 3 days.
2) If the organisers were to pass Processing fees to players then druring registration users would see 2 line items on their invoice:
Entry fee $30
Processing fee $1.075
The players would pay a total of $31.08 when they register. Organisers would receive $29.18 into their bank account (Stripe transaction fee deducted).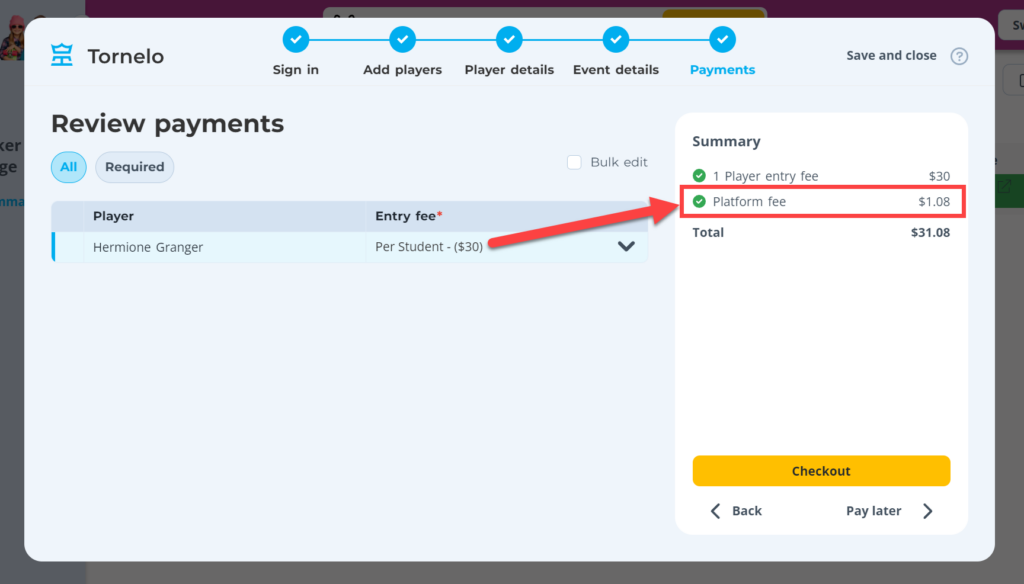 Why not take cash on the day?
The easier it is for players to pay, the more entries (payments) you will receive
Payment at registration increases commitment to the event (fewer withdrawals)
Organisers get their money fast
Easy, instant reconciliation and reporting
Real-time reporting of payments
No bad debts
No uncomfortable chasing players for money
No risk of cash going missing (slippage)
Saves so much time!
Eliminates mistakes
Helps make sure all money due is actually collected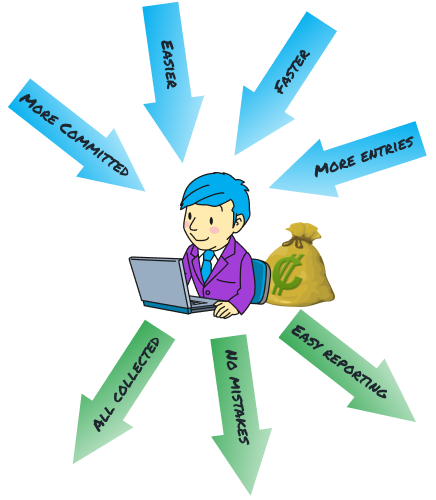 Pre-Tornelo this was an over-the-board event with players making payments in a number of different ways; cash, bank transfer, cheques and credit card. It was a nightmare to reconcile all these in time for the event to start and at every single event organisers were awkwardly approaching players or their parents to collect unpaid fees. Sometimes the fees were paid but in transit which made the request even more awkward. Many times mistakes were made and things did not reconcile at the end of the event. Maybe because the arbiter didn't always have access to the bank account. Many events had players that didn't pay their fees and were never chased. It just was too hard and the information wasn't available to the people who needed it in a timely manner.
If Tornelo helps to collect a payment from just one player who might have slipped through the cracks, organisers actually end up with more money in the bank!
Working on
Support for Club memberships (collecting fees and validating membership for entry into tournaments)
One click uploading tournament results to chess-results website
Accepting payments per team rather than per player
As always, we're keen to hear your feedback. How can we make your life as a chess tournament organiser, arbiter or TD, easier!
Kind regards,
DAVID CORDOVER
Founder