Tornelo is working towards becoming the most user-friendly chess tournament management system in the world. This week we took some significant steps towards this goal and layed the final structural groundwork for major change in the Tournament Lobby.
This work also improves our mobile responsiveness, allowing arbiters to run events on a user friendly pairing program from their phones or players to spectate and view information about events in a clean, attractive, ad-free layout.
Our page structure has been given a more modern look.
Global menu
The far left of all pages now displays our Global Menu. This navigates users to browse or search through our core objects;
Events
Organizations
Players
Users can also easily get Help from our Knowledge Base and manage their login details and profiles from the User menu.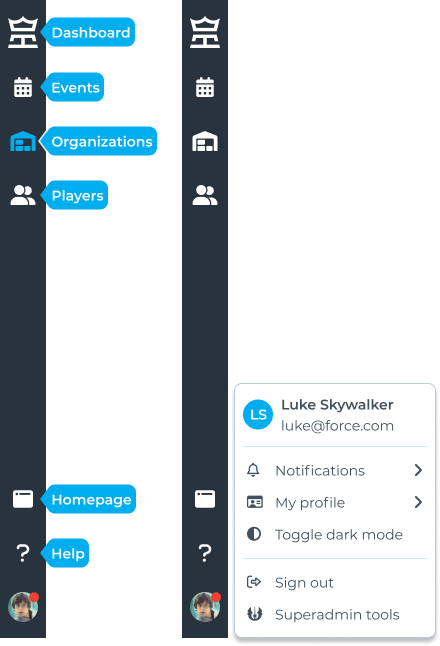 Navigation
Navigation is a collapsible panel to the right of the Global Menu. This is context depended and lets you navigate through the different parts of an Organization or a Tournament.
This panel can be minimised and hidden when you need more desktop space on your page.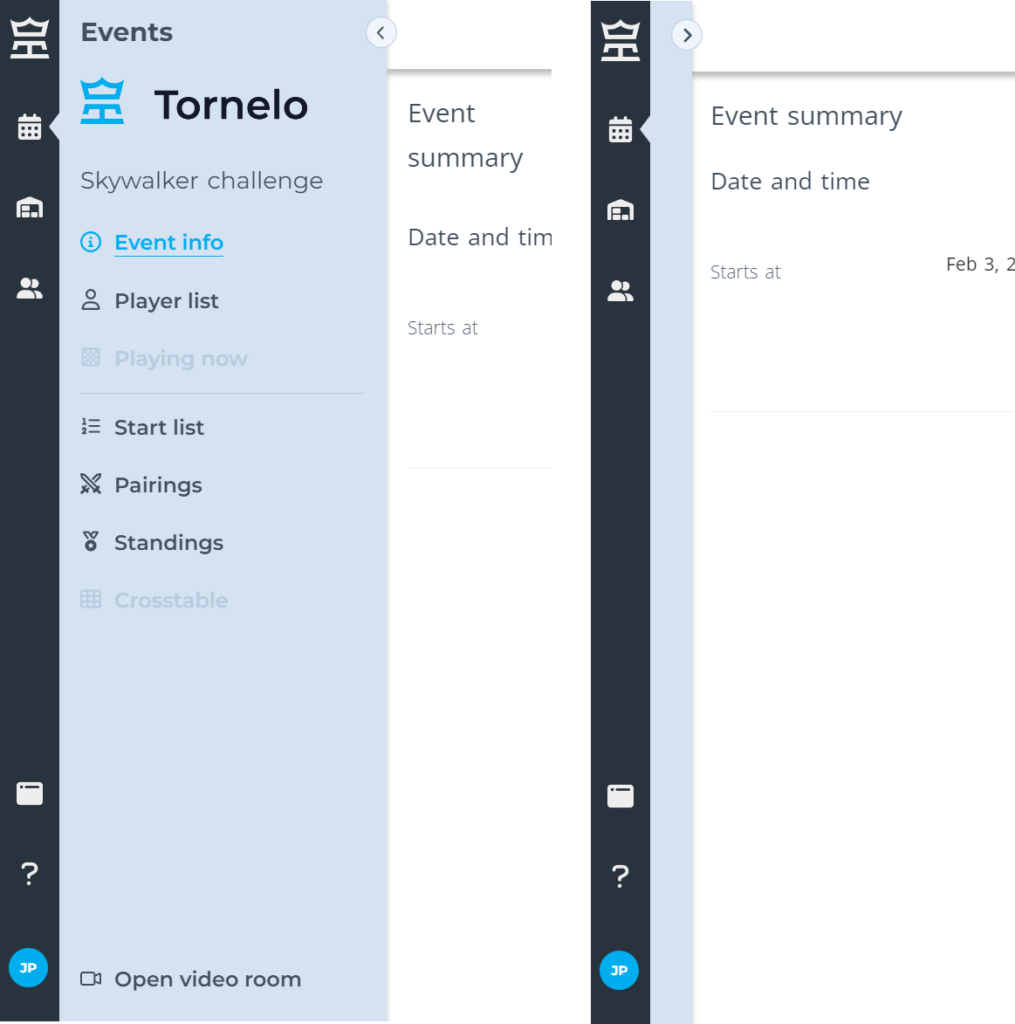 Lobby Navigation
We have changed the way that navigation works in the Lobby. Your Navigation area is static and, under the event name and Organization logo, will always display event-wide information:
Event info (micro-site homepage for your event)
Player list (list of all players in the event)
Playing now (multiboard view of all live-games)
Below the thin line you'll find navigation to Section (Division) specific information. Your navigation describes the type of information you are looking for, and you select the specific Section from within the content area. You'll see a dropdown option above the table, which can navigate to Sections and Rounds.
Start list
Pairings
Standings
Crosstable (coming soon)
At the bottom is the "Zoom room" button for online events. This remains visible the whole time and helps users quickly navigate to your zoom meeting for communication.

Working on
Updating our Game Page to make the online games experience better
One click uploading tournament results to chess-results website
Accepting payments per team rather than per player
As always, we're keen to hear your feedback about our user friendly pairing program. How can we make your life as a chess tournament organiser, arbiter or TD, easier!
Kind regards,
DAVID CORDOVER
Founder